The Andrew McDonough B+ (Be Positive) Foundation
When you are forced into the world of childhood cancer, you quickly learn about organizations that exist to help families. The Andrew McDonough B+ (Be Positive) Foundation is one of those organizations. While spending over five months in the hospital with their son, Joe MCDonough knows just how important financial and emotional support are for parents of these brave little fighters.
Mission
1. Tell us about your organization.What is your mission? The Andrew McDonough B+ (Be Posivtive) Foundation was born out of the tragic passing of 14 year old, Andrew McDonough, to leukemia. Andrew helped his travel soccer team win a Pennsylvania State Championship on a Saturday and just 48 hours later, he was diagnosed with leukemia and went into septic shock and cardiac arrest. The doctors didn't think Andrew would live through the night. Andrew lived through that night and battled through nearly 50 operations, 4 strokes, and a brain aneurysm over the next 166 "bonus days" in the PICU. Andrew died in his sister's arms on July 14, 2007.
Andrew's blood type and the way he lived was B+ or Be Positive. The mission of The Andrew McDonough B+ Foundation is to fight childhood cancer by funding research, providing financial assistance, and advocation for increased funding and awareness of childhood cancers.
2. Why was your organization established? Tell us your "why"? My family and I started our organization because my son died of cancer. No kids should ever get cancer and no kids should ever die from it. Kids should come first. They deserve a chance to grow up. The foundation is not going to bring my son back, but it may make someone else's journey a little easier and we might accelerate the progress toward a world without childhood cancers.
Services
3. What are the services you offer to pediatric cancer patients? The Andrew McDonough B+ Foundation is one of the largest providers of financial assistance to families of kids with cancer nationwide. In 2016, we awarded $1,500,000 to 2,200 families from over 200 hospitals and referring organizations. We also offer our B+ Heroes Program whereby kids with cancer and their siblings get to be paired with college students around the country in a "Big Brother/Big Sister" type of program.
4. What do you wish more people knew about your non profit or the work you are accomplishing? While not unique to our organization, I wish people knew – and cared about – the fact that kids get cancer too!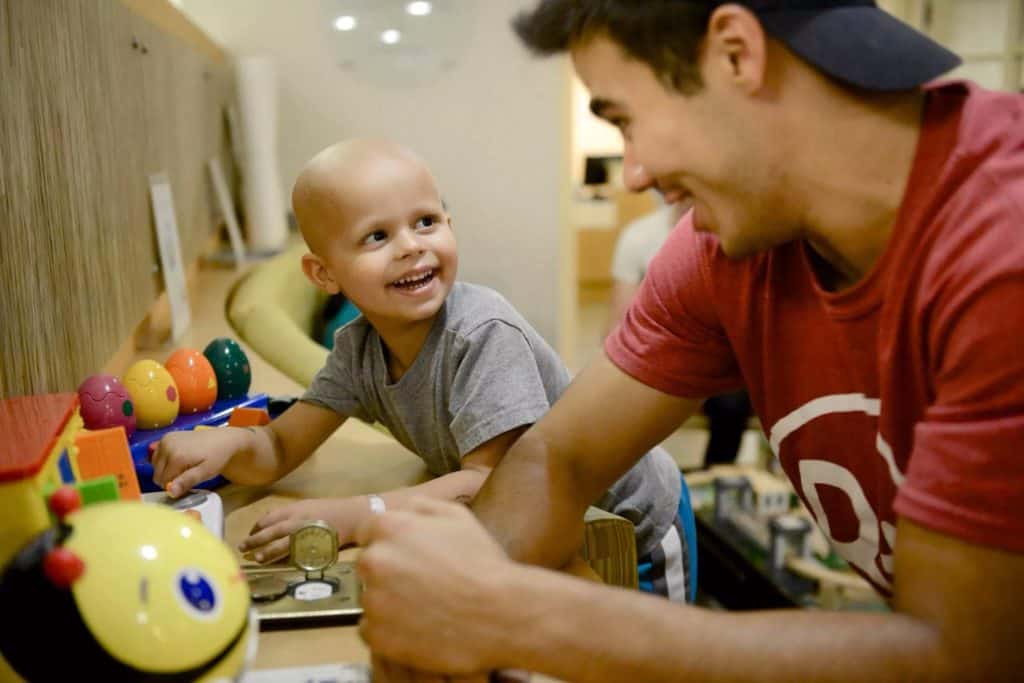 Get Involved
5. How can we get involved in helping you achieve your mission? We encourage everyone to follow us on Facebook or www.BePositive.org and join us in brining B+ events to your community to raise money and awareness.
We are so happy to share with you The Andrew McDonough B+ (Be Positive) Foundation and the many ways they are serving the childhood cancer community.  Visit their website if you would like more information about financial assistance or to get involved.